Worship Arts at Grantham Church
The music and worship arts ministries of Grantham Church exist to bring honor and glory to God. We believe God has provided the way for a relationship with Him through the sacrifice of his son, Jesus. We celebrate and thank God in a variety of ways.
We use music, arts, song, prayer, silence, communion, testimony, drama, Scripture, and the words of those around us to glorify and honor God. We believe that we become like what we worship. And we believe that as we encounter the transforming presence of God in corporate worship, we are then sent out to carry His reconciling presence into our world.
Music Opportunities
WORSHIP TEAM
A collective of musicians, tech volunteers, and Scripture readers that help lead our congregation in faithful and heartfelt worship. In particular, we are looking for more volunteers to run projection and sound.
CHRISTMAS CHOIR
All our welcome to sing in the choir in our Sunday morning worship service on Dec. 24. Choir rehearsals will be Nov. 29, Dec. 6, and Dec. 20 from 6:30-7:30 pm. Please RSVP to Pastor David Perry to participate.
HANDBELL CHOIR
SUNDAYS @ 12pm in THE MUSIC ROOM
Have you ever wanted to try ringing handbells? Can you read music? Keep a beat? Watch a director? Rehearsals will begin Sunday, October 1 after worship (around 12pm) for 30-40 minutes of practice.  The plan is to play in worship 10/29, 11/26 and a December date TBD.  Check your calendars and contact Chrissy Hoffner, preferably PRIOR to October 1, to express interest.
ARTWORK IN WORSHIP | calling all children and youth artists
RSVP by SUN, OCT 1
If your child (any age) loves to create art and would like to be commissioned to make art for our October 29 worship service projection slides, please RSVP to Pastor David Perry by October 1 to receive your song assignment.
CAMPFIRE WORSHIP
SUN, OCT 8 @ 7PM
A casual, communal time of singing modern worship songs around a campfire. You are welcome to bring any instrument and/or your voice, and join us next to the softball field!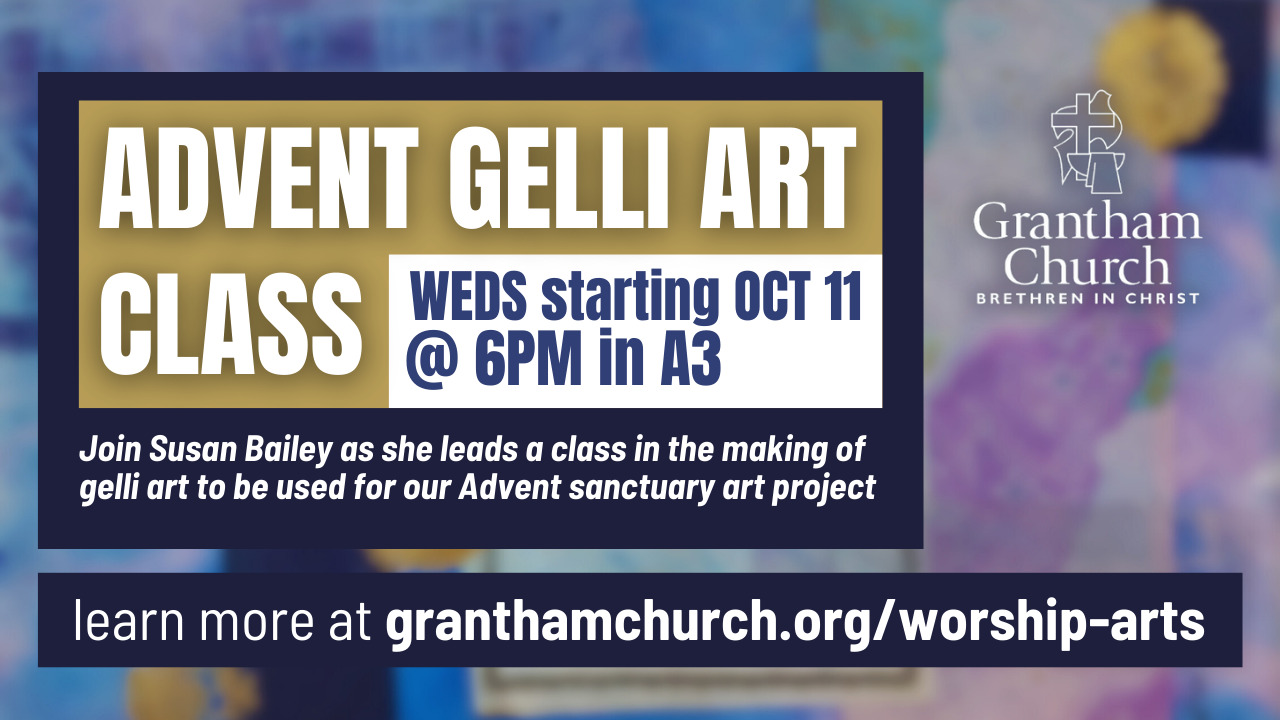 ADVENT GELLI ART CLASS | led by Susan Bailey
WEDS, starting OCT 11 @ 6PM in A3
Join Susan Bailey every Wednesday night (starting Oct. 11) at 6:00 pm in room A3 as she leads a class in the making of gelli art. All of the art in the class will be used for our Adventsanctuary art project, "How Does a Weary World Rejoice?" Anyone high school and up are welcome, regardless of artistic skills.
HYMN SING
SUN, OCT 15 @ 4PM
Join us on Sunday, Oct. 8 in the sanctuary for an informal hymn sing. Bring your requests!
Special Worship Opportunities
TAIZÉ
SUN, NOV 5 @ 7PM
Join us on Sunday, Nov. 5 at 7:00 pm in the sanctuary for a service of spoken and sung contemplative prayer, inspired by the Taizé monastic community in France.
MESSIAH LIFEWAYS CAROLING
WED, DEC 13
All ages are welcome, as we carol for Messiah Lifeway's outdoor, drive-thru event. Please RSVP to Pastor David Perry if you wish to participate.
LONGEST NIGHT SERVICE
THURS, DEC 21 @ 7PM
Join us on the Winter Solstice, for a Longest Night Service that gives voice to our grief, pain, and lament as Christmas approaches.