Art Gallery
Grantham Church runs and operates a small art gallery as part of our Worship Arts Ministry. Our inaugural show, in May of 2004, was part of the first annual Worship Arts Weekend, when we began an ambitious calendar of exhibitions.
Our Purpose
The purpose of the art gallery is to celebrate the creative artists' unique contribution to the Christian community through creating images that are a thoughtful response to God, a reflection of His beauty, or meditations that are a blessing to the church.
We believe that the arts are a vital part of our community's life and worship, and the visual arts in particular are important.
Art sometimes helps tell those important stories and brings a reflective or meditative perspective to ideas that permeate the life of the Christian in our broken world.
That's why, in 2004, we set aside space for an art gallery, and every other year we have a show that invites artists from our community to submit their recent artwork for display. We welcome artists of faith who are interested in sharing their work, regardless of theme, medium, or style. In the past we have displayed a variety of artwork— photography, paintings, drawings, quilts, jewelry, and pottery.
Current Art Exhibit
The art gallery is open in A1 whenever the church is open:
THE ART OF SUSAN BAILEY | acrylics with a bit of Gelli
JUN 25–SEPT 17
This summer the gallery welcomes our own Susan Bailey, in an exhibition she calls "Acrylics with a bit of Gelli." A noted Harrisburg printmaker and painter for many years, she recently began experimenting with the medium of Gelli to create mono prints. Her work celebrates rich color and the nuances of multiple layers and textures, rather than being about something or telling a story. She also holds an art therapy group with One80 Ministries and has included a collection of these ladies' prints in this exhibition.
Past Art Exhibits
Celebrating Creativity | Artwork by our Community's Children
We are setting aside our gallery space to showcase the unique creative spirit we all have as children—that magical time before someone told us we weren't artistic. We will celebrate the artwork made by our own community children this spring.
"Substance Matters" the art of Ted & Catherine Prescott
The gallery is hosting a special exhibition of the artwork of two artists with multiple connections to the Grantham area. In 1980 Ted and Catherine Prescott moved to Central PA to launch the new Fine Arts major at Messiah College, and together they taught there for almost 30 years. Cathy is a painter, working primarily in oils, and her commissioned portraits, including PA's governor Tom Corbett, are in private and public collections internationally. Ted is a sculptor whose large-scale work is installed in locations all over the USA. And for that reason, this exhibition is made up entirely of full-size digital prints of their work.
DEEP PRAYER: THE ART OF POLLY ALICE
"Where does hope come from? Does it come from feeling safe and secure? From a sense of safety? Is hope in the past or the future? Maybe it comes from the idea of justice when everything will be fair and right someday. Is hope something we achieve by wrestling in prayer, or is it a gift, a part of God's Kingdom if we open up our hands and ask? Please enjoy these meditations on prayer based on scripture. Found burlap jute and linen and imperfect stitching make up my soft sculptural canvases created with eco-friendly methods that prevent landfill waste. This symbolic process is one I have used for almost twenty years to demonstrate the beauty of imperfection, the wear of time, and the strain to mend or change one small part of our every day."
CLOSE TO HOME: ADVENT DISPLAYS
During the month of December we will be displaying nativities (and any other types of Advent displays/traditions) in the Art Gallery (Room A1) and we need your help! We'd like the display to be as diverse as possible, with varieties of materials from many regions of the world. Do you have special family traditions related to these displays? We'd love to hear how these things have been meaningful/used in your homes during Advent.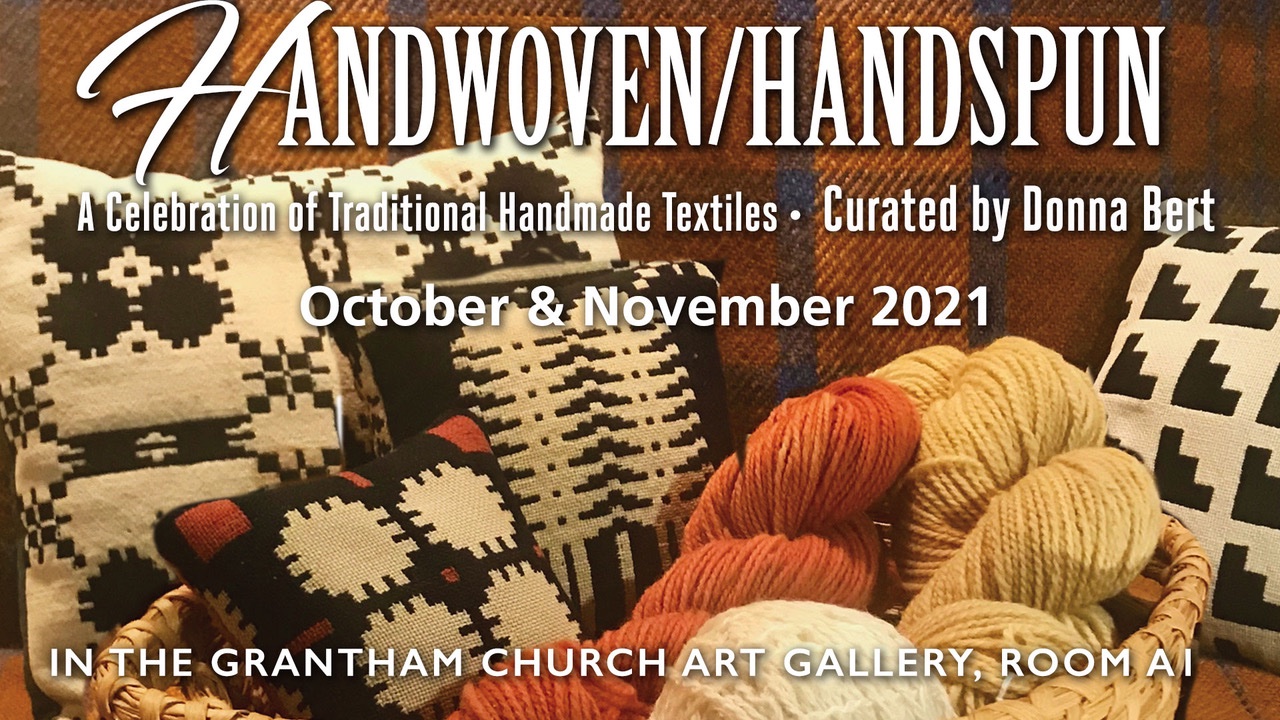 HANDWOVEN/HANDSPUN
Donna Bert has curated a fascinating collection of textiles made by hand, using a variety of techniques and traditional processes. The exhibition is titled Handwoven/Handspun and will be available for viewing in the art gallery in Room A1 for the months of October and November. Donna has been a weaver and spinner for decades, even raised a flock of sheep for many years, and is a member of the Pennsylvania Guild of Craftsmen.
THE CREATIVE CHURCH
Between March and May, the Grantham Church Art Gallery is hosted an exhibition of artwork from a variety of BIC artists. This eclectic mix of media, style and artistic approach helps us celebrate the creativity and artistic talents in our congregations. Our artwork included prints, photography, paintings, drawings, quilts, jewelry, and pottery.
CELEBRATING THE ENGLISH BIBLE
This new exhibition invites us to consider the treasure that God has given us—the gift of His Word, the Bible. In 2017, the 500th anniversary of the Reformation was observed. The goal of this exhibit is to visually tell the story of how the Bible was translated into English, giving the viewer a new appreciation of the difficulty and challenges courageous scholars faced because they believed that having the Bible in the vernacular was vital to the spiritual life of the people and future of the church.
ICONS
Jack Pachuta, of Yardley, PA, is a contemporary iconographer who has been painting icons for over 25 years. His icons depict the face of Jesus, the Crucifixion, scenes from the life of Jesus, Mary, as well as various saints and angels. His work is inspired by medieval Russian icons, Slavic folk icons, and Romanesque frescoes.
Henri Nouwen writes, "It is only gradually, after a patient, prayerful presence that [icons] begin to speak to us. And as they speak, they speak more to our inner than outer senses. They speak to the heart that searched for God."
— Behold the Beauty of the Lord: Praying with Icons
A collection of recent work by Grantham community artists, including Elisa Seibert, Hannah Seibert, Nathan Seibert, Rebecca Seibert, Steve Rosenberry, Alina Operchuick, Andy Rash, Patrick McKinney, Art Bert, Geoffrey Isley, Susan Bailey, and Adelaide Young.
ASSISI
WORKS ON PAPER BY BRENTON GOOD
Brenton Good, M.F.A. is associate professor of art and chair of the department of art and design at Messiah College.  Brenton has been working for years in the mediums of printmaking and painting and his work has been exhibited both nationally and internationally. He created one quick ink sketch on a trip to Assisi in June 2016. He writes, "this one drawing reemerged as a solitary black and white relief print, which then transformed into a variety of color monoprints, recast once again as geometric two-part diptychs, only to eventually arrive as an etched line hidden within a painting. After each step the image appeared to be exhausted until a new approach inadvertently revealed itself once again."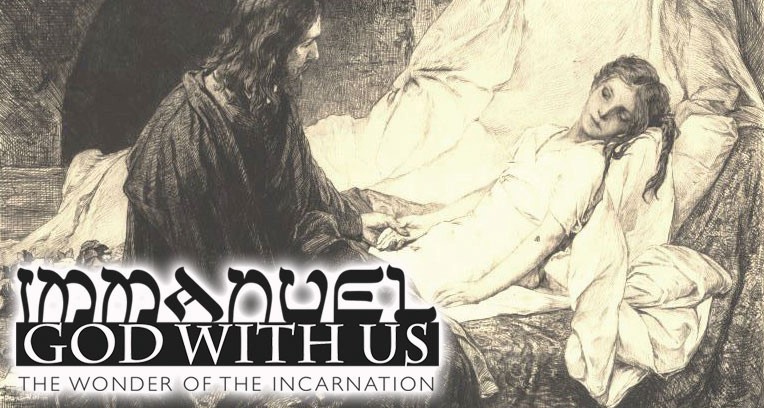 IMANUEL / GOD WITH US: THE WONDER OF THE INCARNATION
CURATED BY SARAH COLAGO AND SANDRA BOWDEN
Grantham Church hosted another Bowden Collections traveling exhibition that focuses on the life of Jesus. Immanuel/God with Us: The Wonder of the Incarnation celebrates Jesus' life on earth seen through the eyes and imagination of artists. The exhibition begins with the Annunciation and birth of the Savior, follows His ministry, and then moves through His Passion and Resurrection, culminating with his Ascension. Using a wide variety of media, twenty-three artists from ten countries picture Christ's earthly life. These 26 artworks come together to offer the viewer a rich experience of seeing afresh Jesus' birth, death and resurrection.
Immanuel God/God with Us includes art from eleven countries, such as, Dominican Republic, Japan, France, Austria, Germany, Netherlands, Slovakia, Mexico, England, Panama, and the United States. The pieces on display include paintings, embroidered molas, etchings, woodcuts, tempera, serigraphs, and woodcarving.
PRINTS BY DONALD J. FORSYTHE AND CHRISTINE A. FORSYTHE
This exhibition by Messiah College founding art department faculty members features 17 prints created during time spent in Ballycastle, County Mayo, Ireland in 2010. Christine presents monotypes on handmade paper inspired by the coastline. Don worked with a salt-etched whiskey tin found on the shoreline, and created unique intaglio-wiped and relief rolled images in limited editions.
For the second half of summer 2017, the gallery featured the artwork of Kelle J. Alonso, a local artist who lives in Grantham with her husband, Dan, and three daughters: Lucy, Lily, and Maddie. She grew up in Dillsburg, and studied art at Houghton College in Houghton, NY, concentrating in painting. Kelle says, "I've been making art since my mom let me use scissors and glue. With the arrival of my first daughter in 2006, I began working in the art of building character and beauty in my children."
WITNESS TO FAITH: THE BIBLICAL ART OF SADAO WATANABE
Japan's foremost Christian artist, Sadao Watanabe (1913-1996) converted from Buddhism to Christianity at 17 years old. He soon combined his new faith with an interest in preserving the traditional Japanese folk art of stencil dyeing, or katazome, by creating colorful representations of biblical scenes that he hoped would speak to his people. He said, "My task is to stand within the artistic tradition of Japan…Theology will not take deep root in Japanese soil if it is merely an import."