Children's Ministry at Grantham Church
Children are a treasured and valued part of our community. We delight in their presence among us! It is our goal to reflect the love of Jesus to every child in a way that our church becomes a place where they come with gladness, knowing that here they are with people who truly care about them.Our most important goal is that children come to know Jesus as Savior and Lord and learn to share His love with others. These are the programs we offer to help our kids learn, love and grow this season:
Sunday Mornings
LEARNING COMMUNITIES | 9–10AM
BIRTH–24 MONTHS | C11 (NURSERY)
Loving care will be offered in the nursery
2–5 YEAR OLD PRESCHOOLERS | D23
Preschool children will be using the Wee Wonder curriculum to explore what it means to come to church, God made the world, and thanking God this fall.
KINDERGARTEN–5 GRADE | D26 & D27
School age children will be using the Shine: Loving in God's light Curriculum. This fall they be learning about becoming a People of God as they learn about the family of Abraham and Sarah through stories from Genesis, and the Journey to Freedom from stories of Exodus and Joshua.
CHILDREN'S CHOIR | 10–10:20AM (D20–22)
Children 3 years up through high school are welcome to join as we practice songs that will be performed in the worship service throughout the year.
NURSERY & PRESCHOOL CARE | 10:15AM (C11)
INFANTS & TODDLERS
Birth- 24 months will receive loving care in the nursery (C11) during the worship service.
PRESCHOOLERS
Children aged 2-3 year old will be in D21, children aged 4-5 year old will be in C19 where each class will have a time of play and Bible Stories.
KIDS' OWN WORSHIP | 11AM (during the sermon)
Children in K-6th grade will join their families for the first part of the worship service. At the start of the sermon, they will be invited to a special worship service. Children in Kindergarten through 6th grade will meet in the area near the mailboxes. We will then split into 2 classes and move to the Children's wing.
Kindergarten through 2nd grade will continue using the Gospel Project as we work our way through the Bible. This fall we will be learning from the minor prophets as we explore stories about the Southern Kingdom of Judah, then looking at a people restored through hope in exile and returning to the land.
The 3rd through 6th graders will continue exploring Bible stories using the Godly Play teaching method and will be studying the Old Testament stories from Creation through the Return from Exile.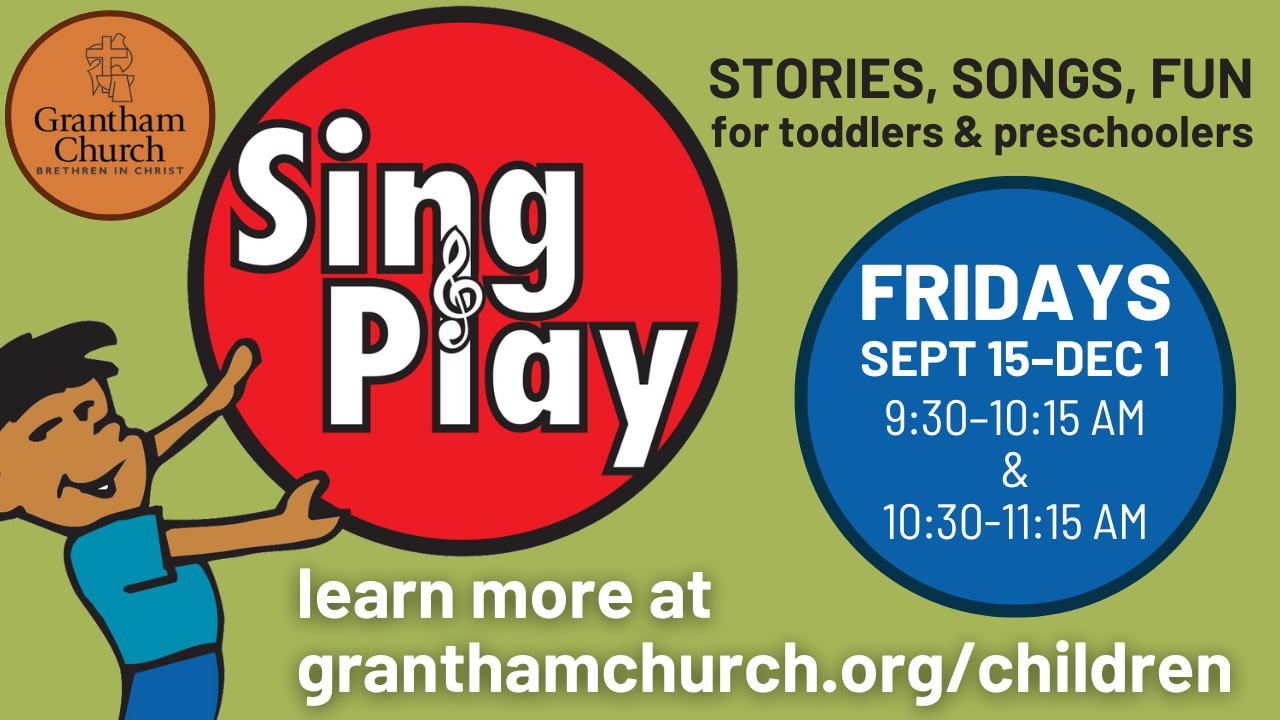 SING AND PLAY
FRIDAYS, @
9:30–10:15 AM 
& 
10:30-11:15 AM

SEPT 15–DEC 1
Sing & Play, a time for preschoolers and their favorite caregivers, to come play in the Fellowship Hall with 8 different stations to choose. We will be resuming on Fridays for the fall starting on Sept. 15 through Dec. 1, with 2 sessions that will last 45 minutes each (one at 9:30-10:15am; and the other at 10:30-11:15am)